Copper Gutter Services
– Installation & Repair – St. Paul – Minneapolis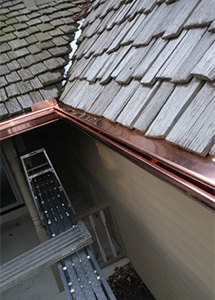 Copper does not rust or corrode. Seamless copper gutters eliminate the need that exists in older systems to re-solder leaking joints and transitions. If properly maintained, you can expect copper gutters to last at least 50+ years. Copper is the best quality metal that can be used—it is the most durable and the longest lasting material available for gutters. Copper does not require painting. As copper ages it develops a lovely patina. It is an extremely low maintenance product. Copper will never rust and is well suited for every environment.
More Advantages of Copper Gutters
Metal roller technology has made it possible to have seamless copper gutters. Seamless copper gutters are more affordable than the older more labor intensive copper systems of the past. Seamless copper gutters do not require expensive upkeep like the older systems of the past. With proper maintenance, copper gutter systems can last over 50 years.
The only disadvantage of Copper is that it is initially more costly than steel or aluminum.
All of our services include a lifetime transferrable warranty for labor and materials. Customers have been our most prized form of company advertising—one happy and satisfied customer telling another, telling another... Creating that kind of customer is our number one goal. It means we do it right, the first time, every time. Your experience with us will be a positive one from start to finish.
The thing that has always set us apart from our competition is that when you call Minnesota Leafless Gutters you will always speak with the owner—Tim. He oversees the entire process. You will never be dealing with an on-the-fly salesperson whose focus may only be his next commissioned sale. Over the years Tim, our owner, has become known as "The House Doctor" and for many good reasons! He develops enduring relationships with clients that are built on a foundation of trust that comes from performing our word each and every day. Every day Tim brings his knowledge and experience to each new job, inspecting each home and going the extra mile to be certain that homeowners are informed of the best the solutions and product choices available for their home's need.
Minnesota Leafless Gutters provides service to the entire Twin City Metro area and beyond. Call us today and discover the quality of our products and services, and also why Tim has become known as "The House Doctor" whose knowledge and standards of service can always be counted on.
Call
612.221.0362
or click for
Gutter Guards in Minneapolis - St. Paul
.
Gutter Covers | St. Paul – Minneapolis, Minnesota
Minnesota Leafless Gutters is located in St. Paul, Minnesota and offers Gutter Guards throughout the Minneapolis – St. Paul area, including, St. Paul, Minneapolis, Edina, Eden Prairie, Maple Grove, Blaine, Stillwater, Burnsville, Apple Valley, North Oaks, Bloomington, Rosemont, Inver Grove Heights, West St. Paul & Plymouth, Minnesota.